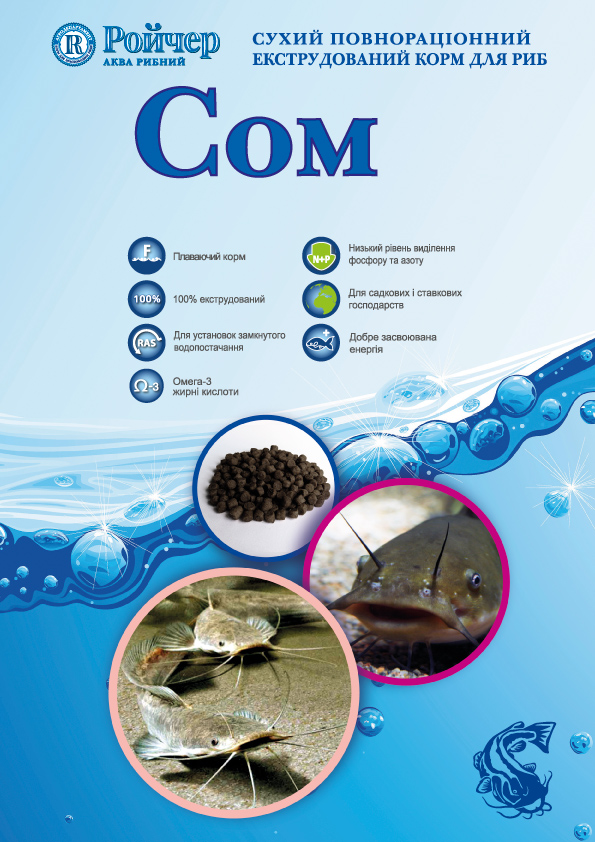 Manufactured according to the technical specifications ТУ У 10.9-31428730-002: 2018
Catfish feed Clarias gariepinus
Dry catfish feed guarantees a favourable quality-to-price ratio with good growth rates and a low (0.9-1.1) feed conversion ratio. Modern high-tech equipment of our company allows to provide the process of 100% extrusion, slow thermal drying and layer-by-layer spraying of fat and special components.
The automated process of sifting and further packing into sealed containers minimize the amount of dust that might accompany the product. Thanks to that Roycher™ AQUA "Catfish" is easy to use. The water resistance of the feed is 4 hours.
For our feeds we use the best components of domestic Ukrainian production, which have excellent taste and nutritional qualities. Due to them the consumption by pond and aquaculture fish ımproves, contributing to its good condition. Roycher ™ AQUA "Catfish" feed is complete, well-balanced and contains all the components and nutrients in their physiological ratio, being necessary for fishes. The feed does not muddy and does not change colour of the water! Use of the feed helps to maintain high water quality and to minimize losses.
We produce three types of Roycher™ AQUA "Catfish":
Roycher™ AQUA "Catfish" "starter". A pellet is 4.5 mm in size. Sinking. For fishes from 50 to 200 grams.
Roycher™ AQUA "Catfish" "grower". A pellet is 6.5 mm in size. Slowly sinking. For fishes from 200 to 800 grams.
Roycher™ AQUA "Catfish" "finisher". A pellet is 11.5 mm in size. Floating. For fishes from 800 grams and more.